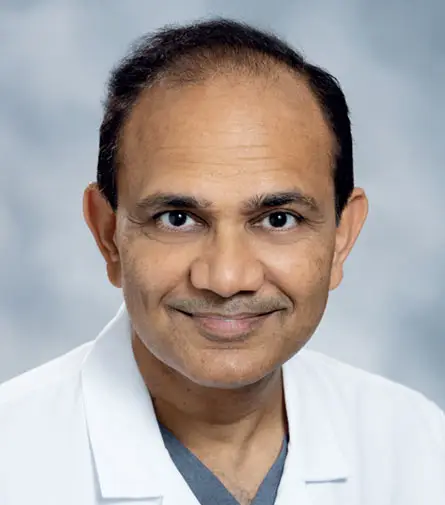 Dr. Sandeep Jain, Founder and CEO
Seamless and efficient communication among doctors plays an integral role in delivering high-quality patient care. However, for doctors, time is of the essence, and even the smallest interruption—a text, call, or email—can become a serious distraction for them. At the same time, effective collaboration among peer physicians is necessary to share critical information like test results or imaging reports, which otherwise sit in data silos. Keeping the needs of doctors in mind, Dr. Sandeep Jain, a pulmonologist and critical care specialist, has developed ListenMD—a patented distraction-free communications platform—to revolutionize medical communications and facilitate a connected healthcare environment. By leveraging distraction-free technology, ListenMD creates a better human connection by bringing all the patient's physicians under a single roof to coordinate care.
In an interview with the editorial team of MD Tech Review, Dr. Jain, Founder and CEO of ListenMD, discusses at length how ListenMD empowers doctors to control their time and opens up new possibilities for communicating with patients and collaborating with other physicians.
What are the major pain points that ListenMD addresses?
Over the years, I observed that poorly structured electronic health record (EHR) systems and other software platforms in the healthcare industry are only creating a barrier to effective communication among doctors. Doctors are often overwhelmed by a slew of tasks, such as documentation of patient information, creating notes, billing, and much more. Due to their busy work schedule, doctors barely get the time to meet each other in person or even confer with fellow physicians over phone calls. Amidst this, critical information becomes a needle in a haystack and is eventually lost. But what if doctors can communicate directly with each other and share those needles of information without all that hay? ListenMD makes it possible.
Initially, I developed ListenMD as a doctor's app designed to enable improved communication among doctors; eventually, I introduced a patient app too. Both the doctor and patient apps are highly integrated with each other, facilitating communication among patients and doctors seamlessly. The need for a distraction-free system comes to the fore as no doctor likes to be disturbed at work. ListenMD leverages the concept of future messaging. If a less important message about a patient has to be delivered, then the sender chooses to delay that message and send it in the future. In this case, the message is not instantly delivered to the recipients' (doctor's) inbox. But, if the doctor gets free early and wants to attend to the patient ahead of time, he/she can pull that message from the future. On the other hand, if something important has to be communicated immediately, the sender can send the message right away to the recipient's inbox.
Through distraction-free messaging, the app helps doctors effectively manage time and take care of patients and yet not miss out on the personal aspects of direct communication. Resident doctors, specialists, office doctors, and inpatient and outpatient doctors find the app highly useful as they do not have to rely on EMRs, EHRs, emails, and other medical text platforms.
A doctor often has to access numerous reports, go through hundreds of pages of information, and interact with multiple other doctors handling a particular patient case.
Through distraction-free messaging, the app helps doctors effectively manage time and take care of patients, and yet not miss out on the personal aspects of direct communication
ListenMD simplifies the task by allowing doctors to connect with each other across systems, institutions, locations, practices, hospitals, and specialty clinics. When everybody else is busy connecting data and overloading doctors with it, I am finding a way to connect people. We believe in connecting people, not just data.
How did ListenMD align itself with the changes brought about by the pandemic?
To efficiently deliver care to COVID and non-COVID patients alike, we have built a feature to enable video calls with the patients and their family members. This idea was born out of the need to continually monitor the patients remotely while they are stuck in isolated rooms. The app allows doctors to send a message to both patients and the next of kin with a single click. With this, all three parties can communicate through a split-screen video to discuss the case details. Additionally, we have introduced a feature where patients who do not have access to smartphones receive a link through email so that they can communicate with doctors from their web browser during an emergency.
Owing to the fatal consequences of the COVID infection, we doctors must follow and monitor certain parameters while prescribing medicines to patients. To this end, I created a graphical system, more like a spider graph with eight sticks representing various parameters. When a stick goes red and increases in length, it implies that the patient is doing worse and might die. Whereas, if a stick goes green, it means the patient is recovering and will survive. This graphical system helps doctors track the progression of parameters and understand how one parameter influences the other.
Could you shed light on the features and functionalities of the app?
Users can load ListenMD from both App Store and Play Store. When doctors download the app, it checks their national provider identifier (NPI) and allows them to validate their phone number. On the other hand, patients install the app, choose a doctor from the NPI database, maintain a record of all their past and present doctors, keep track of doctor appointment dates and get reminders on the same. They can put all their doctors and appointments in the app, which, in turn, allows doctors to know the other doctors providing care and collaborate better.
All doctors of a given patient can be added by the patient or any of the doctors so that all the caregivers (both doctors and non-doctors) can collaborate without distracting each other. The app ensures that patient-to-doctor communications don't overwhelm doctors with a massive influx of messages. Usually, when a few doctors in a group communicate with each other, other doctors or partners treating that particular patient are not aware of the conversation. To this end, our app provides a mirrored inbox that supports team-based messaging and ensures that important information doesn't fall through the cracks. It's not a group text where everybody is notified, but just one person; others in the group can look into the conversation to stay connected and have complete visibility into the case information.
Additionally, ListenMD enables graphical visualization of core pieces of information, which can be entered and visualized by the whole team. Through this feature, doctors can create a note or template-based documentation of the graphical inputs right while examining the patients instead of writing a note on a computer after the visit and missing out on the details. On the other hand, patients can also use the graphical system to record their health conditions and test reports and share them instantly with the doctor as and when needed. The doctor can create a note of that data and add it to the chart used to record patient information with a mere click.
The ListenMD app is not an official repository of information but more like a notepad that supports two types of messaging—casual and formal. In casual messaging, any message, including videos, audio, or pictures, automatically expires as per the time limit set by the doctors. Doctors can switch to formal messaging if any message needs to be recorded and maintained in a non-deletable fashion. Besides, our app is HIPAA-compliant with multiple levels of encryptions and protections to ensure utmost data security.
Telemedicine is today a doctor's "Swiss Army knife." ListenMD supports a full-fledged telemedicine tool providing doctors with a convenient way to check in with patients, diagnose symptoms, and maintain safe isolation when needed.
What does the future hold for your company?
My goal is to have every doctor in the U.S. use ListenMD. To this end, I plan to promote the app's usage among large groups of doctors in renowned medical institutions like the Florida Medical Association or the American Medical Association. Additionally, I am looking to license the patented distraction-free messaging and be the middle man so that other communication apps can use my technology to connect with each other. We will also automate the connection of the graphical system with electronic medical records (EMR). I've filed the patent application for this type of graphical approach to medicine, and all this data collected is ripe for the application of artificial intelligence.